Germany is the number one European country in renewable energy storage capacity with 113.06 gigawatts. According to the updated 2017 rankings, Germany is fourth in the world, after China, the US and Brazil (Source: IRENA – International Renewable Energy Agency).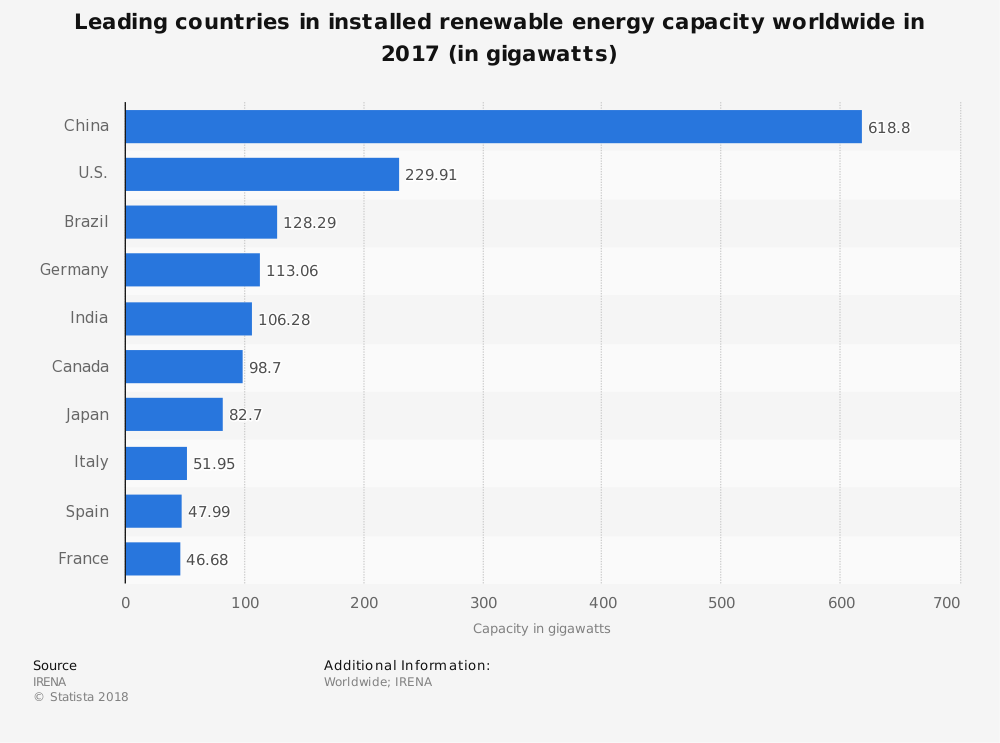 Leading countries in installed renewable energy capacity worldwide in 2017 (in gigawatts) – Source: IRENA 2017, Statista 2018 graphic representation.
For over a decade, Germany has demonstrated constancy in pursuing energy conversion policies, which contributes greatly to their success in utilising renewable energy. After abandoning nuclear energy in 2003, the country began an important project to invest in renewable and sustainable energy resources, particularly solar and wind, with excellent results.
The future of sustainability, hydrogen trains
The path towards achieving an energy self-sufficient and sustainable country marks every new historical moment for Germany. Eisenbahn-Bundesamt [The German Federal Railway Authority] has officially given the green light to hydrogen-fuelled trains made by the company Alstom.
Coradia iLint is its name, and it is the first passenger train in the world to use hydrogen fuel cells to produce electricity for traction. It was specially designed for non-electrified lines.
The first trains will start running at the end of the summer. Meanwhile, in November, Alstom signed a contract with the Lower Saxony Transport Authority (LNVG) to deliver a total of 14 hydrogen-fuelled trains.
The economic power of the energy and environmental sector
Environment and sustainability are the key words present in most EU and global policies, and they also represent a highly profitable piece of the market.
Investing in energy innovation guarantees a high growth potential, especially considering the long road still ahead for replacing traditional energy sources, such as coal and petroleum, with modern energy technologies, like solar, wind, marine and hydrogen.
As a global provider of linguistic services, for nearly 30 years, Intrawelt has collaborated with some of the biggest leaders in the integration of the European electricity market and the use of environmentally friendly sources, as well as many innovation technology companies. This allows us to experience first hand the economic growth of our customers and the industry in general.
Daily, we take on translation projects that our clients need to reach ever-larger market segments: website localisation for foreign markets, business interpretation for building relationships with global partners, multilingual brochures and catalogues and translation of technical documents with increasingly sophisticated requirements. We can discretely and competently manage price-sensitive multilingual documents, such as press releases and legal and financial translations.
Follow us on Facebook, LinkedIn, Twitter and Instagram to stay up-to-date with our contributions, or contact us here to receive information about our services.
https://intrawelt.com/wp-content/uploads/2018/10/shutterstock_285784373-1024x682.jpg
553
830
Luigi Apollonio
https://intrawelt.com/wp-content/uploads/2018/10/logo_intrawelt-1-300x138.png
Luigi Apollonio
2018-08-29 09:10:01
2019-01-31 09:35:53
Germany, world leader in energy innovation